Aesthetic Surgery of Virginia: Enrique Silberblatt, MD
3505 Brambleton Avenue
Roanoke, VA 24018
Phone: (540) 776-1600
Monday–Friday: 8:30 a.m.–5 p.m.

Fraxel® Laser Skin Resurfacing
Fraxel® Laser Skin Resurfacing
Since 2005, we have performed over 4,000 Fraxel laser skin resurfacing treatments at our Roanoke, VA, practice with outstanding results. This noninvasive laser treatment is a safe and effective skin rejuvenation technique that can dramatically reduce various signs of aging, typically without the potential side effects or extended downtime commonly seen in alternative treatments.

Fraxel® Laser Skin Resurfacing

Before & After Photos

Keep in mind that each patient is unique and your results may vary.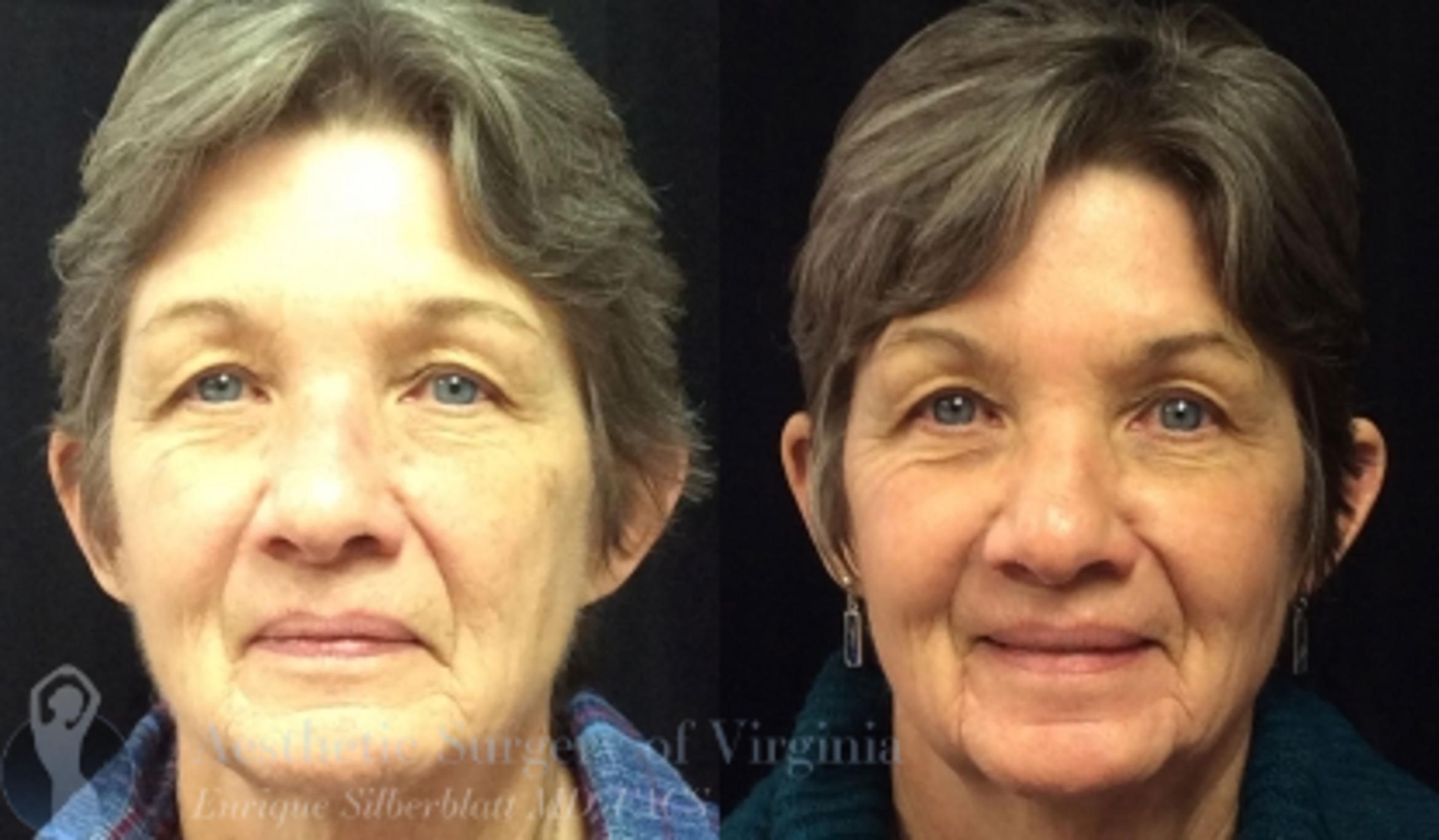 Before & After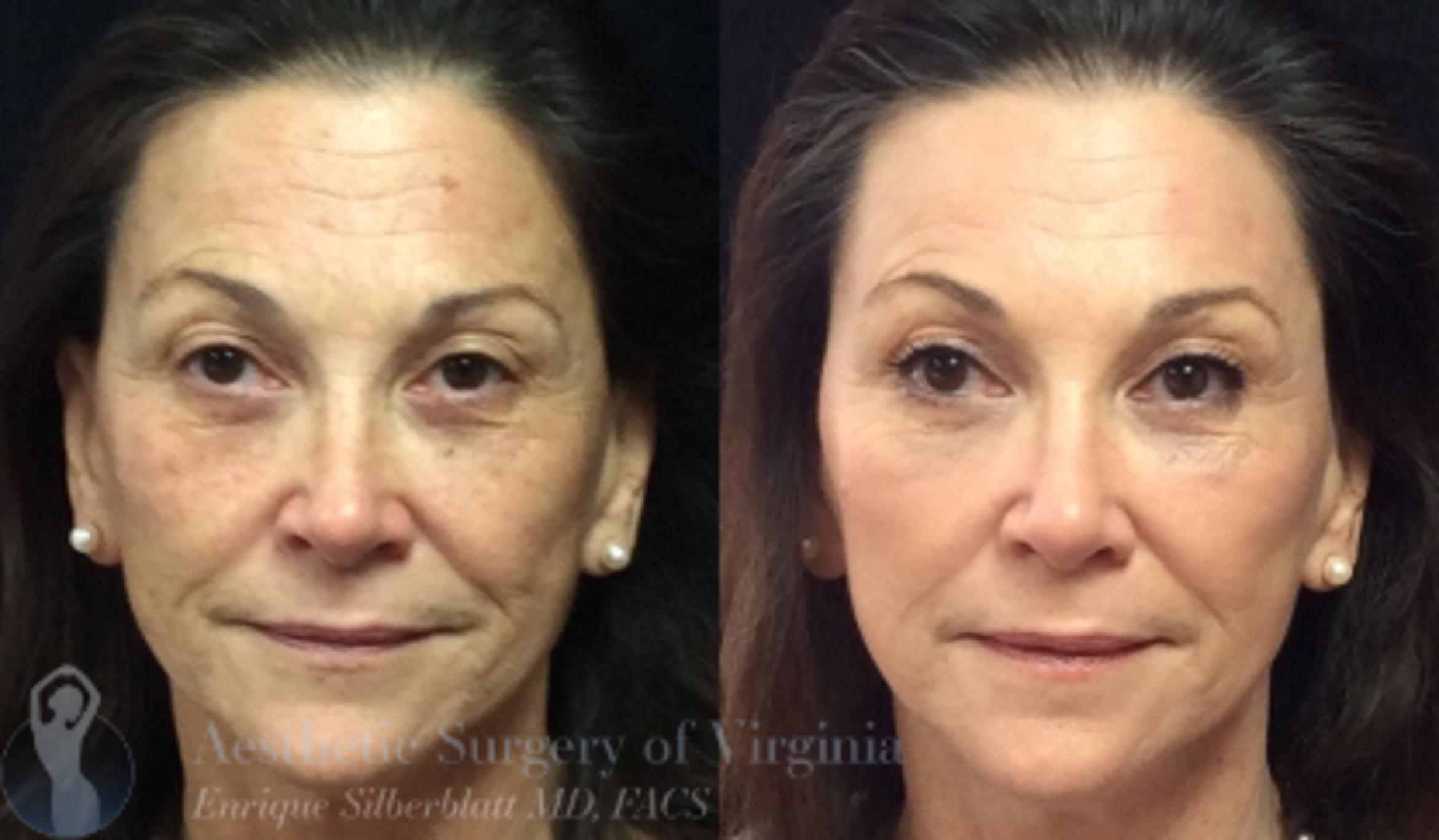 Before & After
Keep in mind that each patient is unique and your results may vary.
We use advanced Fraxel DUAL 1550/1927 laser technology. This machine is designed with 2 separate wavelengths, both of which are calibrated with separate frequencies to improve various signs of aging. We typically use the 1550 nm wavelength to reduce the appearance of scars and fine wrinkles in as little as 1 to 2 treatments. We suggest the 1927 nm wavelength to address effects of sun damage, such as brown spots and melasma, with remarkable results. For example, the patient below came to our practice with an equal amount of melasma on both arms. We treated her right arm with the 1927 laser, and she achieved these visible results in about three weeks.
Our master aesthetician, Kathleen Gorman, can provide laser skin resurfacing using 1 or both lasers. Prior to treatment, we apply a topical numbing cream with a high concentration of local anesthetic to reduce potential discomfort and enhance the overall experience. The combined capabilities of the Fraxel DUAL 1550/1927 laser efficiently improve tone, texture, and pore size for healthier, more youthful-looking skin in a cost-effective manner.
To find out if you are a good candidate for single or dual laser treatment, schedule a consultation online. In addition to laser procedures, we offer many other nonsurgical skin treatments, including CoolSculpting®, HydraFacial®, and Ultherapy®.
"Back in December, you performed laser resurfacing on my entire face. I can tell you that today people think I am 5 to 10 years younger than I am. My acne scarring has improved tremendously. Thank you for this gift. Thanks!"
Read More Testimonials
Dr. Enrique Silberblatt
Dr. Silberblatt performs all treatments and procedures himself—from minimally invasive injectables to complex surgeries. He is by your side every step of the way, from easing your nerves at the consultation through celebrating your beautiful new look after recovery.
Meet Dr. Silberblatt
Why Board Certification Matters
Why Board Certification Matters
Did You Know?
Dr Silberblatt was the first in the Roanoke Valley to introduce Fraxel Laser Resurfacing
Actual Patient Experience with Fraxel Laser Resurfacing
Keep in mind each patient is unique and your experience may vary.
Q: Why did you decide to do Fraxel laser resurfacing?
A: Over the years, my skin has changed. I have developed fine lines, wrinkles, and some brown spots. I wanted something that would renew the damage that the sun and time had done to my skin. I also didn't want a lot of downtime. I needed to get back to work without looking like I had been burned by a torch.
Q: How did the procedure feel at the time?
A: I was concerned about the pain but was pleasantly surprised. They put the numbing cream on me at about 10 a.m., and I was ready by 11 a.m. for the treatment. They rolled this wand or hand piece across my skin in a back-and-forth motion. This gave an even painting of my face so that they evenly covered the complete area. It felt like the sparkler you used to hold at 4th of July. They used a cooling wand to decrease the discomfort, and I found the whole thing very tolerable.
Q: How did you look and feel afterward?
A: I was red. It was like I had either been on the beach and had gotten a really deep sunburn or had gotten a windburn from skiing down the slopes. You could tell the area that they had covered, but it did not look bad. The skin felt warm to the touch but not unbearable. I put on some soothing face cream they gave me, and, believe it or not, put my makeup on right then and there. I went back to work and no one noticed.
Q: What were the aftereffects of the treatment?
A: The next day my face actually looked good. It was brown like a good suntan and all of the heat was gone. There was a little puffiness around my eyes, but ice took care of that pretty quickly. Again, I was able to put my makeup on and had no notice from my co-workers.
Q: When did you see any effects?
A: On Saturday, 3 days after the treatment, my skin began to peel. It did not come off in sheets like sunburn but more like a little sloughing. As the day went on I could rub my hand against the skin and little dots of skin would come off. Washing my face would get rid of most of the loose skin. I needed to go out, so I put the moisturizing face cream they gave me and the peeling disappeared. This lasted for most of the weekend and then it slowly went away. I did not notice when it stopped as the moisturizer and my makeup kept it out of sight and out of mind.
Q: What have been your results?
A: I have had 3 more treatments and have been very pleased with my skin. My brown spots and fine wrinkles have been reduced and most are gone. My skin texture in greatly improved and feels softer. It looks like my pores are reduced and some are saying my skin is soft as a baby. I've had a chickenpox scar on my chin since I was a kid, but the other day I noticed that it was gone. I had a dry skin area over one eyebrow and that is gone. Overall my skin feels like it did when I was a lot younger. I have gotten rid of the damage that the sun and pollution had caused. I'll probably have to get a refresher every year or so, but it is well worth it.
Q: Why did you get a Fraxel over other fractional laser treatments?
A: I wanted something that has proven itself, and I understand that Fraxel has FDA approvals for 7 skin conditions. Fraxel has been around many years and does the job. Some of those fractional lasers have a long downtime, and I could not afford to be away from work or life that long. I don't want the pain or salve you have to put on your skin afterwards just to keep it moist. I like doing this in more than 1 treatment, so I can tolerate it and choose when to stop. The other non-Fraxel treatments were concentrated in one procedure. That's too intense and what do you do for a refresher, another harsh treatment. I like the way Fraxel uses a wand to roll the laser over your skin instead of the gun held away and shot at the skin. Fraxel applies evenly where it looks like theirs would have overlaps and missed places.
All in all, Fraxel was just what I needed, and I have recommended it to my friends who want to turn the hands of the clock back on their skin. Now we don't have to live with the sun damaging mistakes of our youth. We can look good again.
Contact Aesthetic Surgery of Virginia
Dr. Enrique Silberblatt is committed to providing his patients with the highest quality cosmetic surgery treatments and procedures. To learn more about Fraxel laser skin resurfacing request a consultation online or call us at (540) 776-1600.
Back to Top