Aesthetic Surgery of Virginia: Enrique Silberblatt, MD
3505 Brambleton Avenue
Roanoke, VA 24018
Phone: (540) 776-1600
Monday–Friday: 8:30 a.m.–5 p.m.

Lip Enhancements
I offer lip enhancement in Roanoke, VA, to improve the appearance of the lips. The most common complaints I see include lipstick bleed lines (sometimes referred to as smoker's lines), thin lips, turning down of the corners of the mouth, and long lips. I offer lip injections and other solutions for my patients from Moneta, Smith Mountain Lake, Lexington, and other nearby communities.
Lip Enhancements

Before & After Photos

Keep in mind that each patient is unique and your results may vary.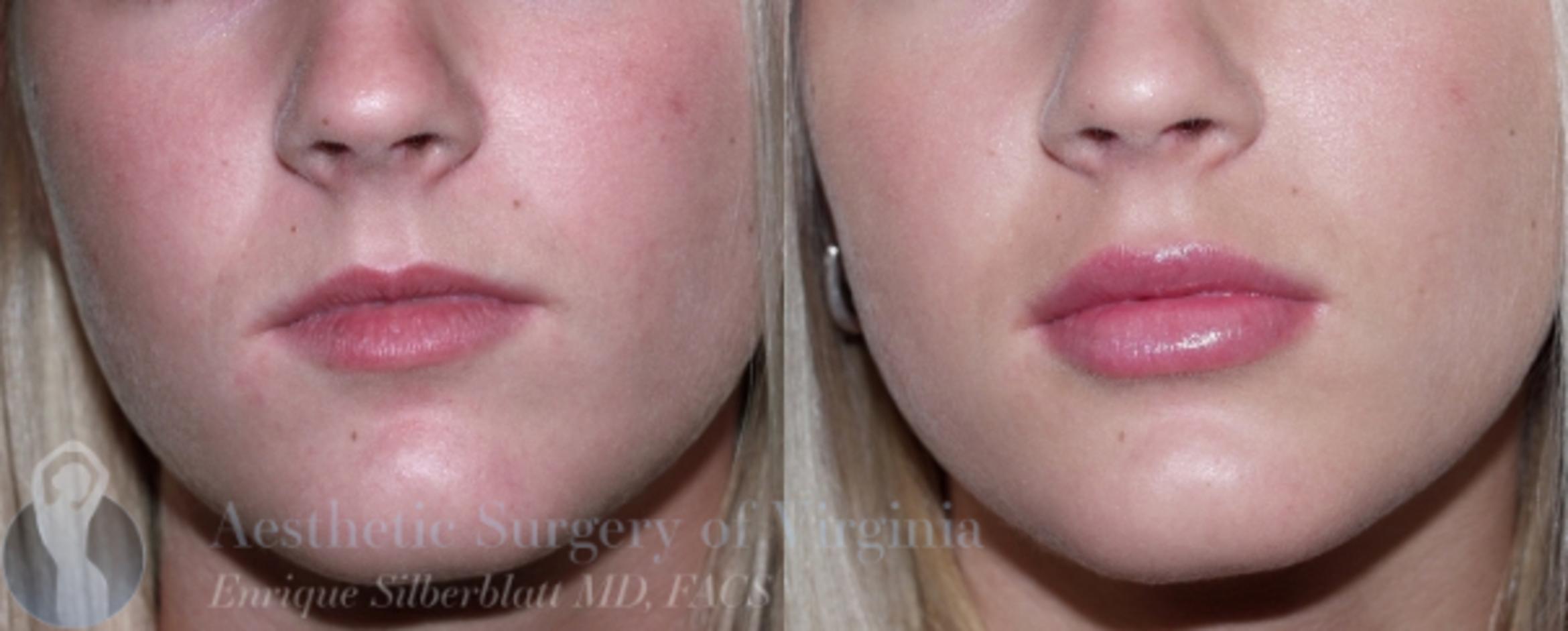 Before & After

Before & After
Case #55
Improving upper lip lines has been a challenge for most of my career. When I first started, dermabrasion and phenol peels were the only tools we had. Dermabrasion resulted in an open wound with a down time of a week to ten days. It also sometimes left scars and the lines were not always removed by the procedure. Phenol peels did an excellent job...
Read More
Keep in mind that each patient is unique and your results may vary.
What is the best treatment for lip lines?
Vertical lip lines, often called smoker's lines and lipstick lines, are not always a result of smoking though I suspect that smokers are indeed more likely to have these lines and that the lines are more likely to be deeper. If the lines extend less than a quarter of the way up the upper lip, lip injections with a dermal filler work well.
If the lines extend beyond that, a procedure to smooth out the entire upper lip is often a better choice. I use Fraxel® laser resurfacing or dermabrasion in my office. Any lines remaining after these treatments can be touched up with a filler.
My fillers of choice at present are JUVÉDERM® or JUVÉDERM VOLBELLA® XC because they:
Are clear
Flow evenly
Rarely form lumps
Last up to a year or more depending on individual factors
Both products come with a local anesthetic mixed in. This, along with ice compresses before injecting, allows for a tolerable injection experience. VOLBELLA can also be used to inject the entire upper lip when fine wrinkling is present throughout. A thin film of the material is left in the deep dermis and serves to smooth out irregularities.
How do you fix sagging corners of the mouth?
Turned down corners of the mouth also develop as part of the natural aging process. This concern is also effectively filled and lifted with dermal fillers.
What can you do for thin lips?
Thin lips can also be made fuller by the injection of JUVÉDERM or VOLBELLA. Although there are implants made of Gortex available for this, the extrusion rate after a year is high. Lumpiness is even more common. Injection of a filler is far safer. Grafts of tendon, fascia, or dermis can be used as fillers but may need to be repeated because of partial resorption or incomplete take. There is also something to be said for changing areas and relative volumes of fill as needs change over the years. What was appropriate and attractive at the age of 25 may be misplaced at the age of 45 if the material used remained in the lips.
Did You Know?
Did you know that "Smokers Lines" are not always a result of smoking?
What is a lip lift?
The other problem some patients face with age is a flattening and lengthening of the upper lip. The best solution to this problem is a surgical lip lift, which removes excess skin in the shape of 2 wings just under the nose. When the incision is closed, the scar is well hidden and the upper lip is shortened and the white roll edge is pulled out a little bit, giving more shape to the upper lip.
As you can see, lip enhancement covers a wide variety of conditions and I individualize treatment according to each patient's needs.
Dr. Enrique Silberblatt
Dr. Silberblatt performs all treatments and procedures himself—from minimally invasive injectables to complex surgeries. He is by your side every step of the way, from easing your nerves at the consultation through celebrating your beautiful new look after recovery.
Meet Dr. Silberblatt
Why Board Certification Matters
Why Board Certification Matters
JUVÉDERM VOLBELLA® XC
Specially formulated and FDA-approved for adding volume to the lips and reducing the appearance of smoker's lines, JUVÉDERM VOLBELLA® XC is one of my preferred fillers for lip enhancement. Like JUVÉDERM®, VOLBELLA is comprised of hyaluronic acid (HA), which is a naturally occurring substance in the body. What sets VOLBELLA apart is the inclusion of VYCROSS®, an advanced component that gives the filler a smoother consistency, making it ideal for treating the delicate lip area. This innovative injectable is designed to create soft, natural-looking results that are generally noticeable immediately after treatment and typically last for over a year, although experiences vary. Another reason I tend to recommend JUVÉDERM VOLBELLA® XC for lip enhancement is that its unique formula provides subtle enhancements, enabling patients to achieve the results they desire without appearing over-augmented.
Contact Aesthetic Surgery of Virginia
Dr. Enrique Silberblatt is committed to providing his patients with the highest quality cosmetic surgery treatments and procedures. To schedule a consultation, please contact us.
Back to Top