Aesthetic Surgery of Virginia: Enrique Silberblatt, MD
3505 Brambleton Avenue
Roanoke, VA 24018
Phone: (540) 776-1600
Monday–Friday: 8:30 a.m.–5 p.m.

Labiaplasty
Women visit Dr. Enrique Silberblatt for labiaplasty in Roanoke, VA, to address cosmetic and physical concerns. By undergoing labiaplasty, numerous women who come to Dr. Silberblatt's practice from Smith Mountain Lake, Lexington, Moneta, and surrounding areas have been able to enjoy renewed confidence and a significantly enhanced quality of life.
Labiaplasty

Before & After Photos
WARNING:
This feature contains nudity. Please click OK to confirm you are at least 18 years of age and are not offended by such material.
OK
Labiaplasty

Before & After Photos

Keep in mind that each patient is unique and your results may vary.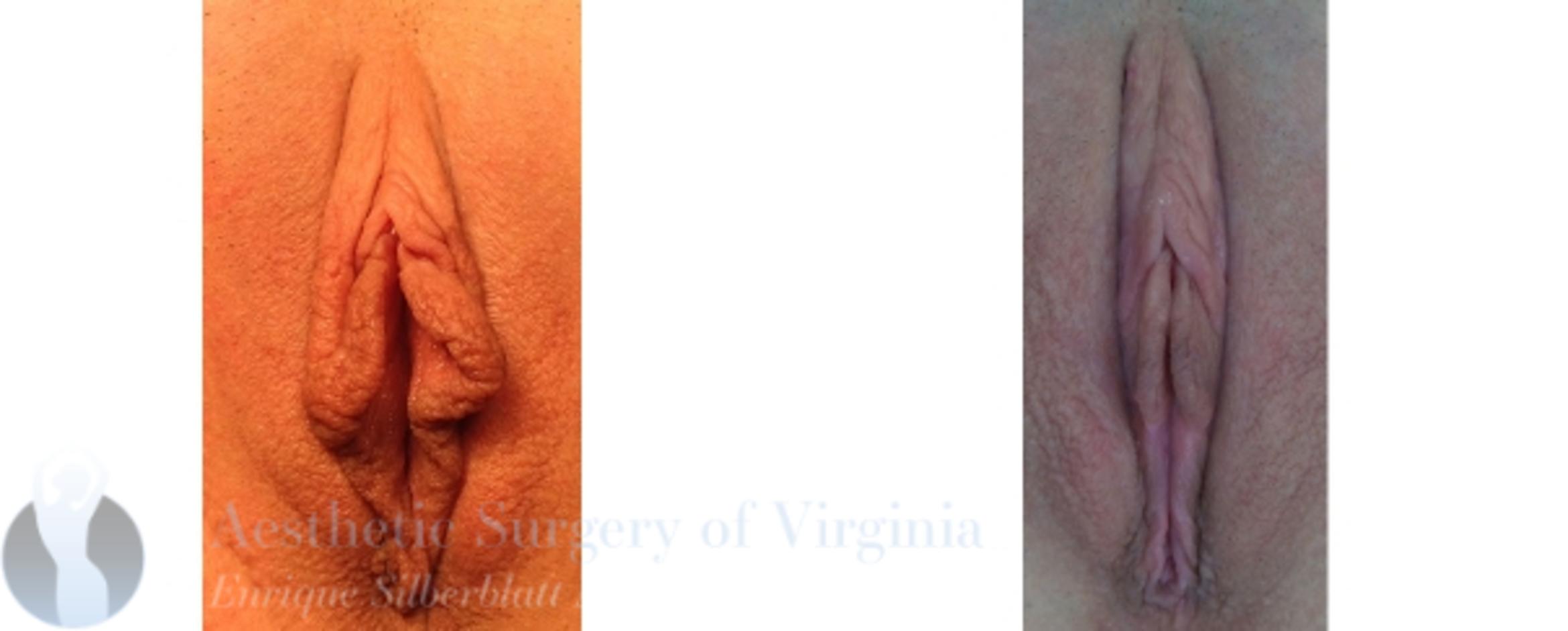 Before & After
Keep in mind that each patient is unique and your results may vary.
What Is Labiaplasty?
Labiaplasty is a female genital enhancement surgery for the vulva, often mistakenly called the vagina. Labiaplasty reshapes and resizes the inner labia (labia minora) and/or the outer labia (labia major). Dr. Silberblatt can rejuvenate the vagina (vaginal canal) with the nonsurgical FemTouch™ procedure instead of, or in combination with, labiaplasty depending on patient concerns.
Who Is a Good Candidate for Labiaplasty?
Good candidates for labiaplasty are healthy women of all ages who have enlarged and/or asymmetrical labial tissue as a result of:
Genetics
Childbirth
Menopause
Dramatic weight loss
Trauma
Natural aging
During a private consultation, Dr. Silberblatt determines proper candidacy after performing a thorough examination and reviewing the needs/goals of prospective patients. This consultation is a good time to find out about other popular procedures such as tummy tuck, liposuction, and breast augmentation.
Why Would Someone Get a Labiaplasty?
Women have labiaplasty to address a variety of concerns, including:
Pain during intercourse
Discomfort in fitted clothing and during activities like biking and horseback riding
Feeling unattractive and self-conscious (which is a perfectly acceptable reason to pursue this procedure)
Asymmetry between the labia on each side
Dr. Silberblatt has been surprised to find out how many women are so embarrassed about this problem that they will not even discuss it with their own gynecologist or obstetrician. He believes no one deserves to be self-conscious about their body and wants women to know they have options available to them to address this concern.
"I feel this was a good thing to do and I'm glad I had the nerve to do it. If I needed it I would do it again."
Read More Testimonials
How Is Labiaplasty Performed?
The labiaplasty operation is usually done as an outpatient under local anesthesia, but sedation is available for those who desire it. There are various ways of performing the operation, including a:
Straight-line excision along the edge of the labia
Wedge excision of the upper half of the labia
Wedge excision with a Z plasty (zigzag) closure of the upper half
Dr. Silberblatt discusses the different options with each patient and customizes his approach to best fit the individual's needs.
How Long Does Labiaplasty Surgery Take?
On average, labiaplasty surgery takes about 1 to 2 hours to complete. Following the operation, patients are able to return home under the care and supervision of a close friend or family member.
Dr. Enrique Silberblatt
Dr. Silberblatt performs all treatments and procedures himself—from minimally invasive injectables to complex surgeries. He is by your side every step of the way, from easing your nerves at the consultation through celebrating your beautiful new look after recovery.
Meet Dr. Silberblatt
Why Board Certification Matters
Why Board Certification Matters
How Long Does It Take to Heal From a Labiaplasty?
Most women feel well enough to resume work and/or non-strenuous routines within a few days, although patient experiences vary. Physical activities like exercise and sexual intercourse should be avoided for approximately 4 to 6 weeks. Some degree of swelling and/or bruising can initially be expected after labiaplasty, though these symptoms should subside over time. Postoperative pain is rare, but any mild to moderate discomfort experienced within the first few days of recovery can usually be controlled with medication. There is no need to return to have sutures removed, as all incisions are closed with absorbable sutures that come out on their own in about 3 weeks.
Are Patients Happy With Their Labiaplasty Results?
Ultimately, the satisfaction rate of labiaplasty is exceptionally high. Once healing is complete and the results of treatment are fully realized, the vast majority of patients find they are able to feel both confident and comfortable in situations that would have led to anxiety and/or discomfort before their procedure was performed.
Contact Aesthetic Surgery of Virginia
Dr. Enrique Silberblatt is committed to providing his patients with the highest quality cosmetic surgery treatments and procedures. To learn more about labiaplasty, request a consultation online or call us at  (540) 776-1600.
Back to Top