Aesthetic Surgery of Virginia: Enrique Silberblatt, MD
3505 Brambleton Avenue
Roanoke, VA 24018
Phone: (540) 776-1600
Monday–Friday: 8:30 a.m.–5 p.m.

Breast Implants
Choosing the right breast implants at our Roanoke, VA, practice takes a fair amount of consideration. When women from Smith Mountain Lake, Lexington, and Moneta visit us for breast augmentation or a breast lift, they are given a variety of implant characteristics to choose from. Each option has its pros and cons, so it is important for patients to understand the details of silicone versus saline implants, the potential of the various shapes, and the possibilities for implant sizes.
Breast Lift with Implants

Before & After Photos
WARNING:
This feature contains nudity. Please click OK to confirm you are at least 18 years of age and are not offended by such material.
OK
Breast Lift with Implants

Before & After Photos

Keep in mind that each patient is unique and your results may vary.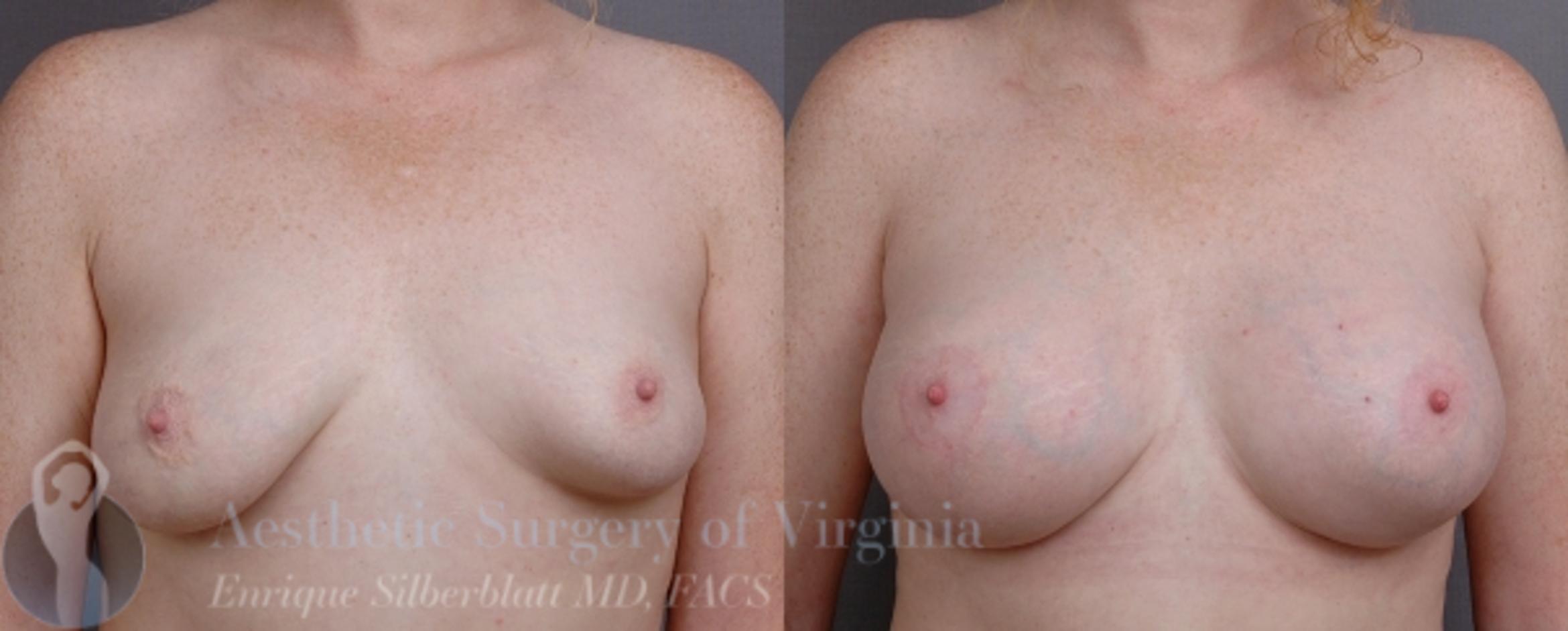 Before & After
Keep in mind that each patient is unique and your results may vary.
Silicone and Saline Breast Implants
Silicone gel implants were FDA approved for use in 2007. This followed many years of study after unsubstantiated and highly publicized objections in the early 90s led to a government mandated moratorium. Their record so far shows no difference in outcome (complications, capsular contracture, failures, etc.) from saline implants. Since the re-introduction of silicone gel implants, I have found that a growing number of women prefer gel implants. "Feel" and contour of gel implants are superior to saline implants. Folds in gel implants are less likely to show through the skin. For these reasons, gel implants are preferable if the implant is to be placed over the muscle. It should be noted, however, that the FDA has restricted the use of gel implants to patient 22 years of age or older.
The gel in current implants is more "cohesive" than the gel used in implants used in the 1980s. This means that the gel is less likely to find its way to other parts of the body if the elastic shell encasing it develops a hole. The shells should remain intact 10 to 15 years, on average. Many may last longer. Nevertheless, the FDA recommends an MRI scan for all patients with gel implants three years after their initial surgery and biannually thereafter. Saline implants do not have this MRI recommendation. If the shell of a saline implant fails, a specific endpoint is noted: the breast mound deflates in a matter of hours. The implant, then, must be removed from the pocket and replaced. The endpoint for gel implants is less specific and often not usually evident. If an MRI reveals a failure of the shell, then removal of the implant is recommended by both the FDA and implant manufacturers.
Gel implants cost almost twice what saline implants cost; the surgical fee of the procedure is the same, no matter which you choose. If placed under the muscle, one would probably be hard pressed to see a difference between gel and saline implants, unless you are unusually thin. About 75% of my patients choose silicone. Good results, however, can be obtained with either implant.
Breast Implant Shapes
There are now a variety of advances among implant shapes and types, and each has its own advantages and disadvantages. I discuss these considerations at length during your initial consultation, and we decide, together, which option may best fit your needs.
Dr. Enrique Silberblatt
Dr. Silberblatt performs all treatments and procedures himself—from minimally invasive injectables to complex surgeries. He is by your side every step of the way, from easing your nerves at the consultation through celebrating your beautiful new look after recovery.
Meet Dr. Silberblatt
Why Board Certification Matters
Why Board Certification Matters
What is the best size for breast implants?
The choice of implant size is primarily at the discretion of the patient because only she can decide what size gives her the proportions she wants. I ask each patient to put on a spandex top that we provide and then try on different sizers that we stock. When a patient sees what she likes, that is the size chosen. At the time of surgery, I inflate a sizer to fill the pocket I have made. If the desired size is too large to comfortably fit into the pocket, I put in the largest size that does fit. It is rare for me to find that the size a patient wants is too large when reasonable choices are made prior to surgery.
"I never felt pressured and I chose the size I was comfortable with even though I asked numerous times for advice, I was still told it was my decision to make. The best decision I made was choosing Dr. Silberblatt and getting so much more in return. You have given me back my self-esteem!"
Read More Testimonials
Is it better to get breast implants over or under the muscle?
Patients that have little or no breast tissue have better results with the implants under the muscle. However, women large enough to fill the average B cup or more, particularly when there is extra skin, will probably get better results with the implants over the muscle. If there is too much skin, however, a lift may be necessary as well. Every person's anatomy is different, and the decision of where to place the implants will vary. Many are able to go above or below the muscle. When I put implants over the muscle, I will usually recommend using gel implants, as they are less likely to show rippling. I will be happy to address these and any other questions you may have about this procedure or any other aspect of plastic surgery.
Breast Implants Warranty
At Aesthetic Surgery of Virginia, your safety and satisfaction are our highest priorities, and these concerns don't end once your surgery and postoperative care is completed. We use both Allergan and Mentor implants and both companies offer comprehensive warranties that can be extended. I discuss this at the time of your consultation.
Contact Aesthetic Surgery of Virginia
Dr. Enrique Silberblatt is committed to providing his patients with the highest quality cosmetic surgery treatments and procedures. To schedule a consultation, please contact us.
Back to Top