Aesthetic Surgery of Virginia: Enrique Silberblatt, MD
3505 Brambleton Avenue
Roanoke, VA 24018
Phone: (540) 776-1600
Monday–Friday: 8:30 a.m.–5 p.m.

Breast Lift
Breast lift surgery at our Roanoke, VA, cosmetic surgery practice is accomplished by removing extra skin and repositioning breast tissue to a higher location on the chest wall. If a woman wants increased breast volume, we can perform a breast augmentation with implants at the same time. Regardless of the best surgical techniques available, some women's natural breast tissue will fall again over time and, in some cases, it may be preferable to remove that tissue and replace it with an implant placed higher on the chest wall. The fullness provided by the implant is more likely to last.
Breast Lift

Before & After Photos
WARNING:
This feature contains nudity. Please click OK to confirm you are at least 18 years of age and are not offended by such material.
OK
Breast Lift

Before & After Photos

Keep in mind that each patient is unique and your results may vary.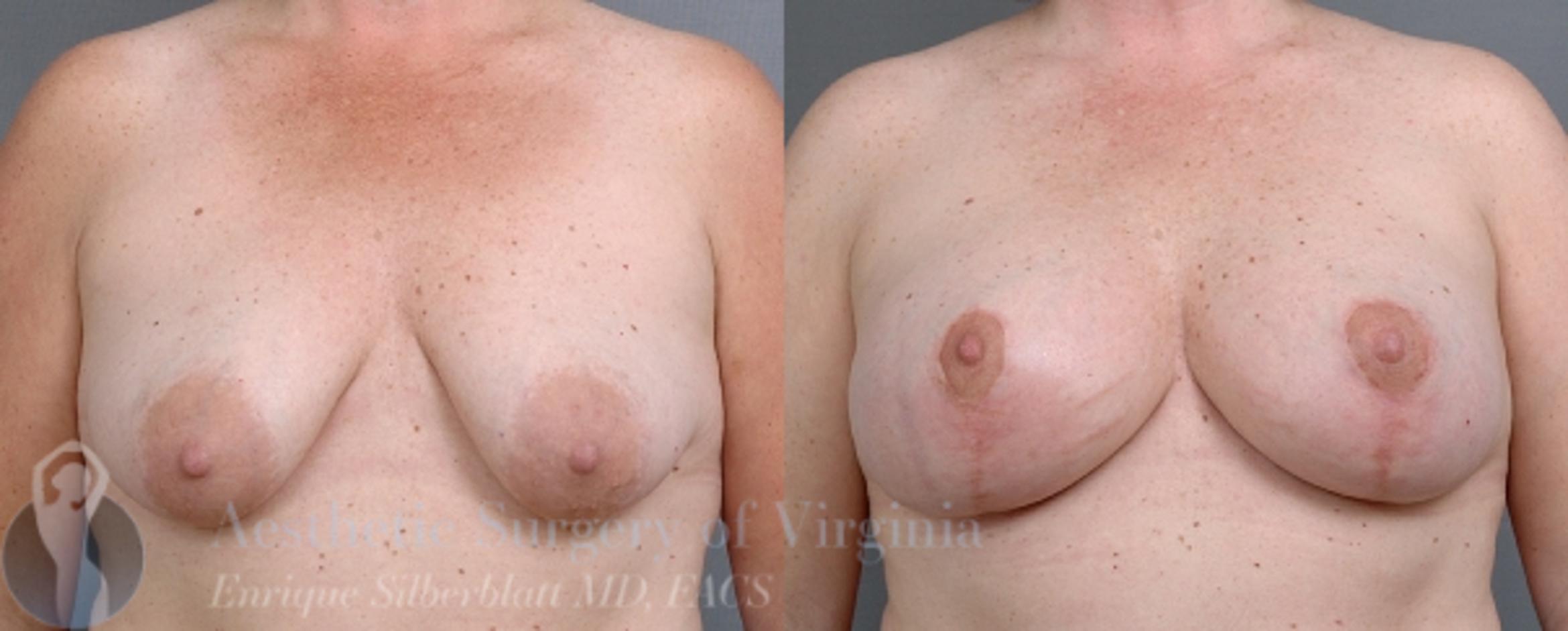 Before & After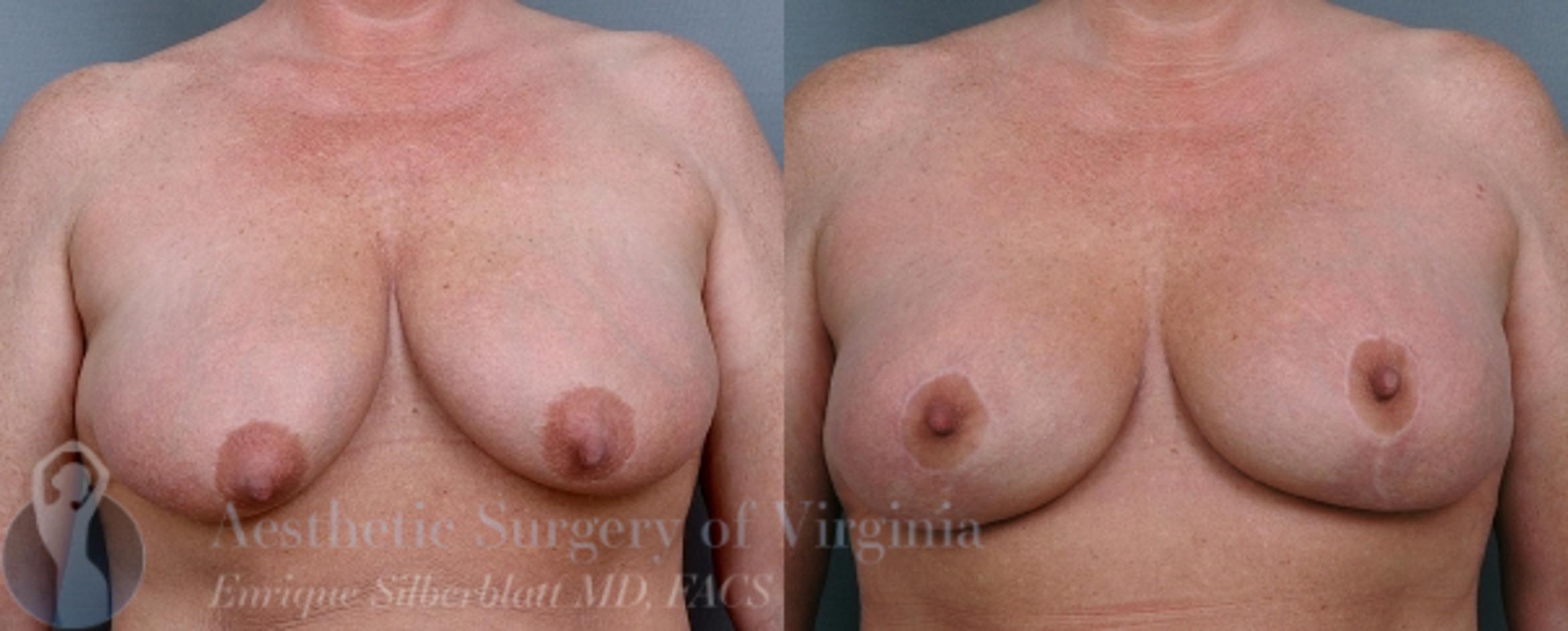 Before & After
Keep in mind that each patient is unique and your results may vary.
Benefits of a Breast Lift Without Implants
Many natural forces can cause breasts to droop and lose firmness over time, including pregnancy, nursing, genetic predisposition, gravity, and the effects of aging. These factors can cause the breasts to lose volume and breast skin to lose elasticity. For many women from Smith Mountain Lake, Lexington, Moneta, and other nearby cities, breast lift surgery corrects these concerns by effectively elevating and reshaping the breasts. Ultimately, breast lift surgery can:
Correct breast sag and lift breasts to a higher position
Tighten excess lax skin
Increase breast firmness
Provide a more youthful contour and appearance
Reposition the nipples to a more central location
Decrease the size of large nipples and areolas, if necessary
Did You Know?
Did you know that some patients are a candidate for a periareolar breast lift, where the only incision is made around the areola—a doughnut shaped piece of skin is then removed just outside the nipple, tightening the breast. The scar is hidden and blends into the pigment of the areola—leaving no vertical or horizontal scars on the breast.
Breast Lift Candidates
Patients experiencing a loss of breast volume, significant breast sag, skin laxity, or decreased firmness may benefit from a breast lift procedure. Good candidates for a breast lift include women who:
Are finished with childbearing; pregnancy and nursing after surgery can increase breast droop
Are near their goal weight; excessive weight loss after surgery can result in additional skin laxity
Experience nipple drooping below the level of the breast crease
Are in reasonably good physical health
If you are unsure whether you are a candidate for a breast lift, Dr. Silberblatt can perform a pre-operative examination during your consultation to address your concerns. You can discuss your goals and expectations for surgery to determine whether this procedure might benefit you.
Breast Augmentation with a Lift
If you choose to combine a breast lift with a breast augmentation with implants, both procedures will be performed during a single operation. In most cases, implants are placed first, followed by tissue reshaping and the removal of excess skin. Our typical patient is a mother in her 30s or 40s who has breastfed and lost substantial volume after she stopped producing milk. Women seeking to improve both the size and elevation of their breasts are often considered good candidates for breast augmentation with a lift.
However, if a woman has previously had a breast lift without an implant and subsequently desires an augmentation, the procedure presents risk and may be dangerous to attempt. The risk results from changes made to the breast and nipple's blood supply that occur after an inferior pedicle lift. Dr. Silberblatt recommends that both a lift and augmentation be done at the same time if a woman has any worries about the adequacy of existing breast volume.
Dr. Enrique Silberblatt
Dr. Silberblatt performs all treatments and procedures himself—from minimally invasive injectables to complex surgeries. He is by your side every step of the way, from easing your nerves at the consultation through celebrating your beautiful new look after recovery.
Meet Dr. Silberblatt
Why Board Certification Matters
Why Board Certification Matters
The Breast Lift Procedure
When a patient only wants a breast lift, Dr. Silberblatt performs an operation similar to a breast reduction. He starts by drawing a keyhole pattern on the breasts while the patient sits upright in the pre-anesthesia area. This pattern is centered on the new, higher location where the nipple will be placed. During surgery Dr. Silberblatt removes the skin between and below the flaps on the side, leaving a smaller nipple and areola attached. The skin and fat of the flaps are lifted off the breast tissue. No breast tissue is removed. The breast tissue and areola are lifted to a higher position on the chest, and the skin flaps are brought around and under to keep the breast in place. All incisions are closed.
There are many ways to perform a breast lift, and over the years, Dr. Silberblatt has tried inferior pedicle, central mound, superior pedicle, and lateral pedicle techniques using circular, lollipop, and inverted T incisions/scars. He finds that the inverted T incision yields the most consistently optimal results. Other approaches have unacceptably long downtimes or poorer scars, despite the claims of their proponents.
For patients affected by breasts that are too large for their body frame, a breast reduction may be a more beneficial treatment. Breast reductions can correct disproportionately large breasts by removing excess fat or breast tissue to make the breasts smaller and more manageable.
Breast Lift Recovery
After surgery, you wear a bulky cotton dressing held in place by elastic wraps around the chest. The dressing is changed every 3 days for the first 2 weeks, and your breasts will be supported in their new position for 6 weeks using special bras. Sutures are removed after about 2 weeks.
While individual experiences vary, patients usually return to work in 2 to 3 weeks in all but the most strenuous jobs. If your profession requires lifting and vigorous chest/arm activity, your return to work might be delayed for as long as 6 weeks. Similarly, you may need to abstain from aerobic exercise and sports during the recovery period, depending on your healing rate. However, you can usually resume light daily activities in 1 week. Some soreness or swelling may occur, but this is a normal reaction, and any discomfort can be managed with oral pain medication. Surgical results will typically improve as your breasts settle into their new position. After the procedure, patients generally enjoy a more youthful, shapely, and rejuvenated appearance in their breasts.
Contact Aesthetic Surgery of Virginia
Dr. Enrique Silberblatt is committed to providing his patients with the highest quality cosmetic surgery treatments and procedures. To learn more about breast lifts request a consultation online or call us at (540) 776-1600.
Back to Top