Aesthetic Surgery of Virginia: Enrique Silberblatt, MD
3505 Brambleton Avenue
Roanoke, VA 24018
Phone: (540) 776-1600
Monday–Friday: 8:30 a.m.–5 p.m.

Breast Reduction
A breast reduction is an operation that removes unwanted breast tissue to make breasts smaller, lighter and more comfortable. It also usually elevates the breasts as well, providing the benefit of a breast lift. Patients often get relief from back and shoulder pain and are able to control the maceration of skin that can occur under the breasts from constant sweating and rubbing. In addition, they typically find that they are able to participate in certain activities and wear various articles of clothing without the discomfort or self-consciousness they used to experience.
More often than not, breast reduction should be considered a reconstructive procedure to alleviate these symptoms, but insurance companies have created a maze of requirements and "guidelines" that make it immensely difficult, even in the most extreme cases, to have the operation paid for under their policies. It is my belief that cost should never inhibit someone from undergoing a procedure that can truly improve their life from both a physical and psychological standpoint, which is why my practice offers plastic surgery financing and payment plan options through CareCredit® for those who need or desire financial assistance for treatment.
Breast reduction surgery can be incredibly rewarding for women suffering from the effects of overly large breasts, and my goal is to help each patient find a renewed sense of confidence while enhancing her quality of life.
Breast Reduction

Before & After Photos
WARNING:
This feature contains nudity. Please click OK to confirm you are at least 18 years of age and are not offended by such material.
OK
Breast Reduction

Before & After Photos

Keep in mind that each patient is unique and your results may vary.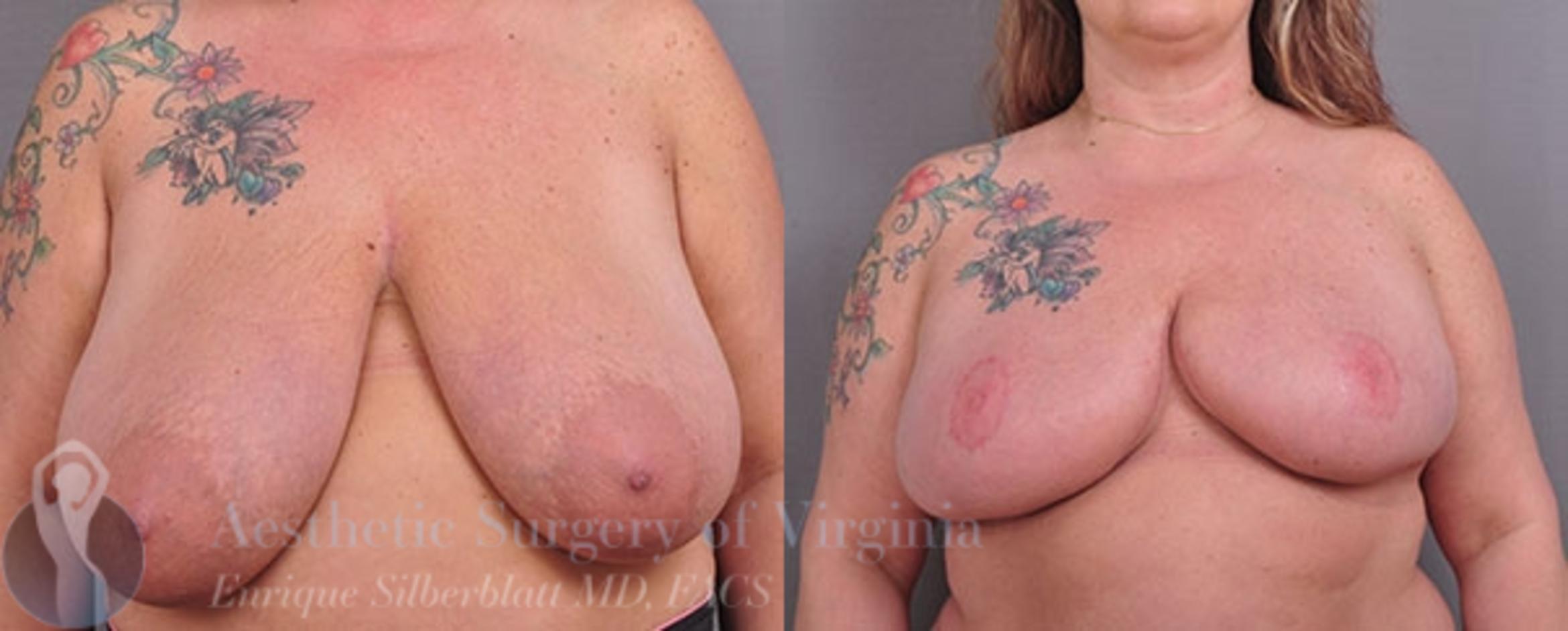 Before & After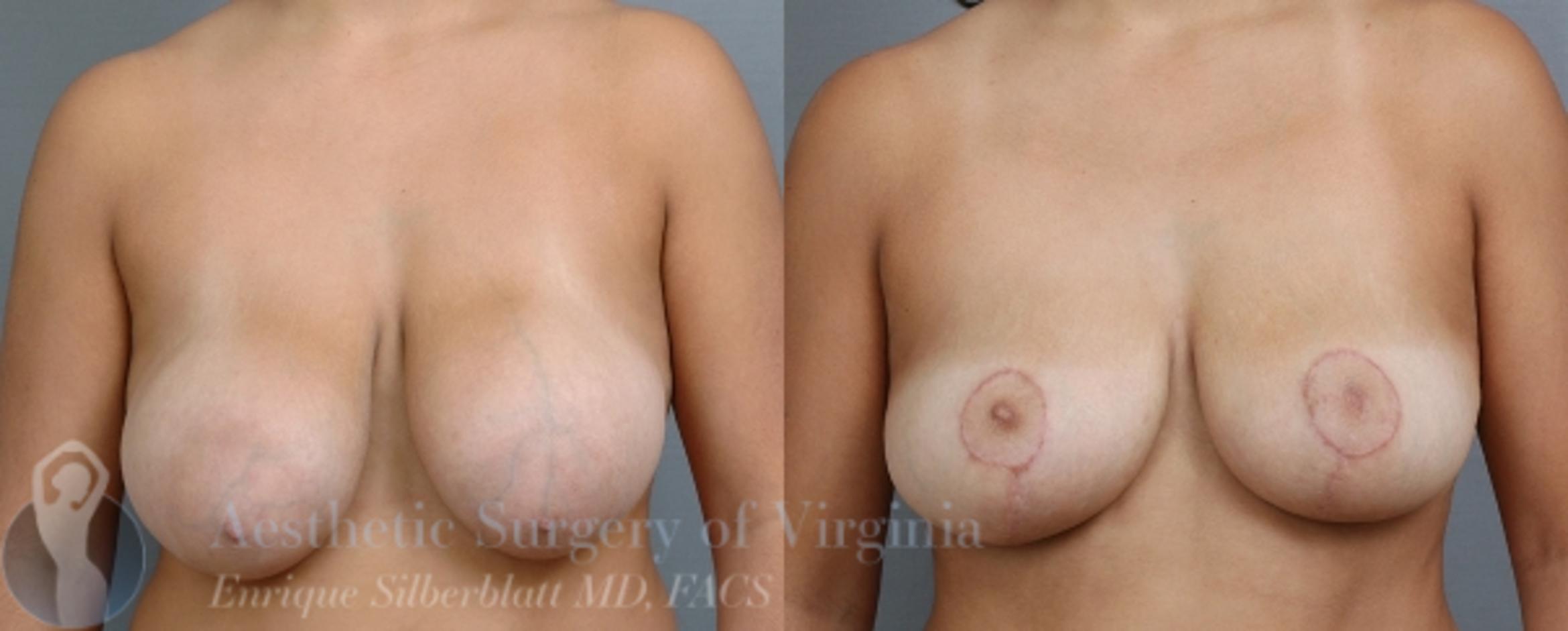 Before & After
Keep in mind that each patient is unique and your results may vary.
Breast Reduction Candidates
Breast reduction can be an excellent surgical option for women who wish to decrease the volume and improve the overall shape of their breasts. Candidates for treatment usually include individuals troubled by one or more of the following concerns:
Constant pain or discomfort in the back, shoulders and/or neck
Chronic headaches extending from the forehead to the lower neck
Irritating or tender skin rashes under the breasts
Deep indentations created by bra strap pressure
Poor posture caused by the weight of the breasts
Discomfort when participating in certain physical activities
Bras and tops that do not fit properly
A general feeling of self-consciousness about one's breast size
These are simply a few of the many issues experienced by women with disproportionately large breasts. During a one-on-one consultation at my office, I will listen to each patient's unique concerns and perform a thorough examination to determine whether or not she would be a good candidate for breast reduction.
Did You Know?
The garment industry has no set standard for what cup sizes mean? This is why two bras of the same stated cup size by different manufacturers vary widely in fit. In fact, the same bra may vary in size over time as a company shifts the manufacturing contracts to different factories around the world!
Benefits of Breast Reduction
For qualified individuals, breast reduction surgery offers numerous physical and emotional benefits, some of which may include:
A more proportionate and symmetrical breast size and shape
Relief from headaches and back, neck or shoulder pain
Less hunching and improved posture
No more skin rashes or bra strap indentations
A significant reduction in discomfort associated with physical activity
A more expansive range of clothes, bathing suits, and bras that fit correctly
Improved self-confidence and self-image
In addition, breast reduction surgery also offers the benefit of a breast lift for most patients, helping to elevate the position of the breasts on the chest wall for a more youthful overall appearance.
Dr. Enrique Silberblatt
Dr. Silberblatt performs all treatments and procedures himself—from minimally invasive injectables to complex surgeries. He is by your side every step of the way, from easing your nerves at the consultation through celebrating your beautiful new look after recovery.
Meet Dr. Silberblatt
Why Board Certification Matters
Why Board Certification Matters
The Breast Reduction Procedure
There are many ways to do the operation, and over the years I have tried inferior pedicle, central mound, superior pedicle and lateral pedicle techniques using circular, lollipop and inverted T incisions/scars. When breasts are so large that the nipples almost touch the belly button (or are below it), removal of all the breast tissue below the ribs with transfer of the nipple as a free graft is the only reasonable solution. When this more radical approach is not necessary, I have found that the inverted T incision yields the most consistently good results. Other approaches have unacceptably long down times or poorer scars in spite of the claims their proponents make.
The operation that I do starts with drawing a keyhole pattern on the breasts with my patient sitting up in the pre-anesthesia area. This pattern is centered on the new, higher location for the nipple. I also draw an elongated dome from the base of the breasts, around and over the nipple. During surgery I remove the skin on this dome, leaving a smaller nipple and areola attached on top. The skin and fatty tissue around this mound is now lifted off the breast tissue. Extra breast tissue on either side and above the inferiorly based mound is removed. This will be the substance and volume of the new breast. It is now lifted to be in a higher position on the chest, and the skin flaps are brought around and under it to keep it in place. If necessary, liposuction of the sides is now done to reduce fullness in this area. All incisions are then closed.
"Dear Dr. Silberblatt, Though you did my breasts a long time ago – I didn't mean to wait this long to tell you how thankful I am with myself now and to you for a wonderful job. Each day is a blessing. I look forward to even wearing clothes that didn't look right on me before. I really was in denial but thanks to you I accept myself now."
Read More Testimonials
Breast Reduction Recovery
Immediately following surgery, a bulky cotton dressing with ace wraps around the chest is used as a dressing. The dressing is changed every three or four days for two weeks. Sutures are removed after about two weeks. The reduced breasts are supported in their new position for an additional four weeks using special bras.
Recovery is an individual experience after breast reduction. In general, significant pain during recovery is rare, but any discomfort experienced can usually be managed effectively with medication. In all but the most strenuous jobs, patients usually return to work in two to three weeks. If lifting and vigorous chest/arm activity is required, return to work might be delayed for as long as six weeks. This same time frame also typically applies to resuming rigorous exercise, most sports, and any other activities that involve upper body strain.
Due to the need for incisions, there will be some degree of scarring following surgery. Though they will never vanish completely, breast reduction scars tend to fade gradually over time when cared for properly throughout the healing process. Due to their location, scars can be hidden underneath nearly all underwear and swimsuit varieties, and most women note that the results of their procedure far outweigh any reservations they ever had about potential scarring in the first place.
In the end, the vast majority of patients find that breast reduction results in significant symptomatic relief and allows for a more active lifestyle. It is a procedure with one of the highest satisfaction rates.
Contact Aesthetic Surgery of Virginia
Dr. Enrique Silberblatt is committed to providing his patients with the highest quality cosmetic surgery treatments and procedures. To schedule a consultation, please contact us.
Back to Top