Aesthetic Surgery of Virginia: Enrique Silberblatt, MD
3505 Brambleton Avenue
Roanoke, VA 24018
Phone: (540) 776-1600
Monday–Friday: 8:30 a.m.–5 p.m.

Male Breast Reduction
Gynecomastia is a condition in which men's breast tissue grows and is visible to varying degrees. It usually begins to enlarge at puberty and in many cases will resolve on its own. One or both sides may be involved. In some men, however, the condition does not go away. Many men find this a source of great embarrassment and never remove their shirts or undershirts in public. Removal of this tissue is a life-changing event. One of my patients was a World War 2 veteran who overheard the German nurses ridiculing him about his gynecomastia. They did not know he understood German perfectly. He lived his entire life in the shadow of this memory. In his late sixties he decided to do something about it. After surgery, he was one of the happiest patients I have ever had.

Male Breast Reduction (Gynecomastia)

Before & After Photos

Keep in mind that each patient is unique and your results may vary.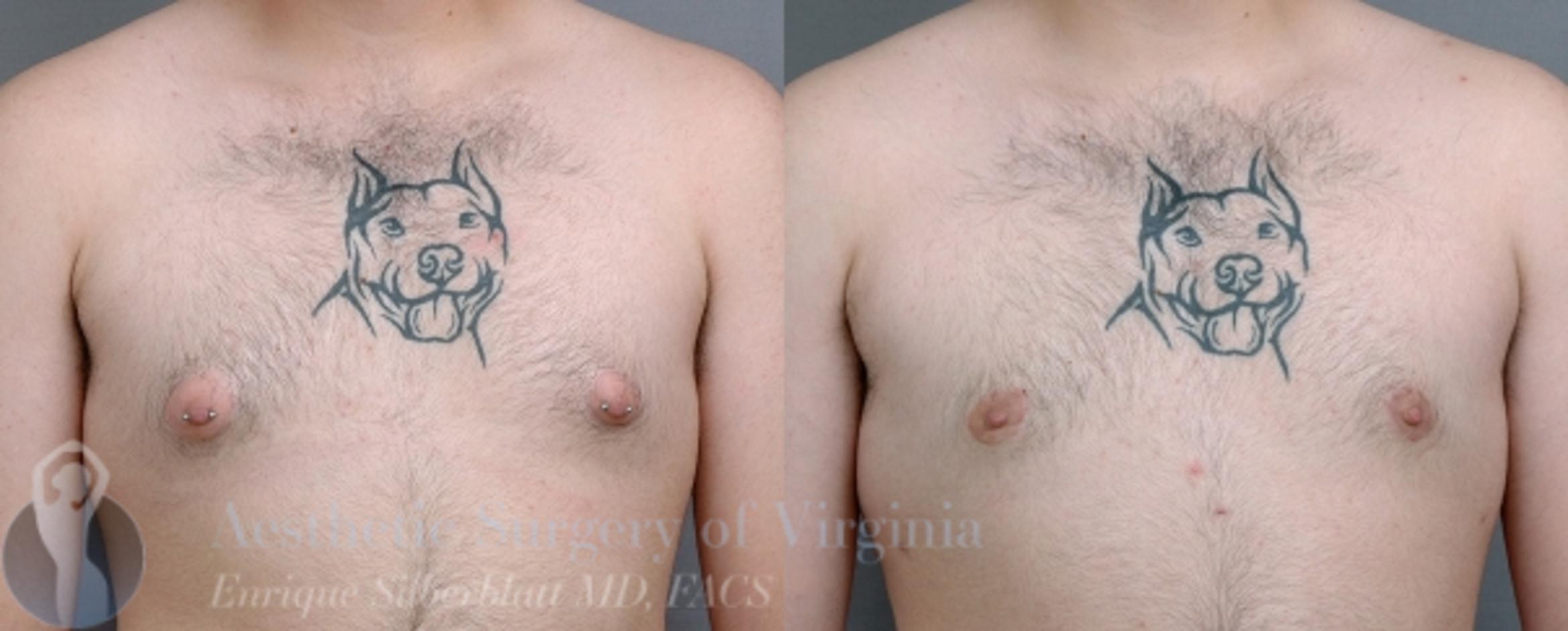 Before & After
Keep in mind that each patient is unique and your results may vary.
Benefits of Gynecomastia Treatment
The story my patient shared about being teased for his condition is not uncommon. Many men who suffer from gynecomastia become embarrassed by their appearance, so male breast reduction generally helps boost self-esteem. Additionally, gynecomastia treatment can help patients to:
Regain a more masculine appearance
Wear more form-fitting clothing
Achieve the confidence to be shirtless in public
Engage in physical activity more comfortably
If you are interested in learning more about gynecomastia treatment, or would like to schedule a consultation with me, please do not hesitate to contact my office today.
Did You Know?
Did you know that it is estimated as many as 15% of American males have had gynecomastia?
Male Breast Reduction Candidates
Men who experience an overabundance of glandular tissue and/or fat in the chest area may be considered ideal candidates for gynecomastia treatment. True gynecomastia is characterized by an accumulation of excess breast tissue, which is sometimes accompanied by stubborn fat. If fat buildup is the sole cause of the aesthetic concern, it is referred to as "pseudogynecomastia," and often can be treated with liposuction alone.
As with all surgical procedures, patients should be in good health to be eligible for male breast reduction surgery. During your initial consultation, I can answer any specific questions you may have and conduct a thorough examination to determine if this procedure is appropriate for treating your concerns.
Dr. Enrique Silberblatt
Dr. Silberblatt performs all treatments and procedures himself—from minimally invasive injectables to complex surgeries. He is by your side every step of the way, from easing your nerves at the consultation through celebrating your beautiful new look after recovery.
Meet Dr. Silberblatt
Why Board Certification Matters
Why Board Certification Matters
The Male Breast Reduction Procedure
The operation I do combines liposuction and open breast tissue removal. It is done under sedation or general anesthesia. I begin by reducing the fullness on both sides of the chest with liposuction. After that, there is usually a small amount of breast tissue left around the areola. This has to be cut out because breast tissue cannot be aspirated like fat. I make a semi-circular incision at the bottom of the areola and remove the breast tissue while feathering the edges like a flying saucer. This avoids a result that looks like an ice-cream scoop plunged in and out of the skin.
Male Breast Reduction Recovery
After surgery, drains are used and they come through the skin at the sides where the liposuction incisions were made. A compressive garment resembling a bra with no cups is used after surgery. Drains are removed on the second postoperative day. Sutures are removed in seven to ten days. If vigorous upper body effort is required at work, then one should be prepared to be off work for three weeks. Otherwise, one might be able to return to work after five days. Removal of breast tissue for gynecomastia has one of the highest satisfaction rates among my patients.
Gynecomastia Treatment FAQs
What causes gynecomastia?
There are a variety of factors that can lead to the development of excess breast tissue in men. Some of the potential causes of gynecomastia include hormonal imbalances, obesity, hereditary disorders, certain medications, anabolic steroid use, and the use of marijuana.
Is gynecomastia common?
The development of enlarged breasts is actually fairly common in males, but the condition generally occurs during puberty and is resolved after hormone levels have stabilized.
Am I too young for male breast reduction?
In most cases, it is generally best for patients to be at least 18 years old. Candidacy can be determined in a one-on-one consultation with a board-certified plastic surgeon.
What will my scars look like?
Incisions for male breast reduction are generally made around the areola, allowing for inconspicuous scarring. I take great care to place all incisions in a way that will result in minimal scarring. Following all post-surgical instructions also aids in minimizing the appearance of scars.
Contact Aesthetic Surgery of Virginia
Dr. Enrique Silberblatt is committed to providing his patients with the highest quality cosmetic surgery treatments and procedures. To schedule a consultation, please contact us.
Back to Top