Aesthetic Surgery of Virginia: Enrique Silberblatt, MD
3505 Brambleton Avenue
Roanoke, VA 24018
Phone: (540) 776-1600
Monday–Friday: 8:30 a.m.–5 p.m.

Facelift
We offer facelifts at our Roanoke, VA, cosmetic surgery practice for women and men from Smith Mountain Lake, Lexington, Moneta, and surrounding communities who want to tighten loose and sagging skin in the face, cheeks, and neck. Board-certified plastic surgeon Dr. Enrique Silberblatt performs facelift surgery at a state-of-the-art, AAAHC-certified operating facility, with the average procedure taking about 4 hours. Before the operation, a board-certified anesthesiologist administers general anesthesia. No other part of the procedure is done by any other surgeon, nurse, or assistant. Patients do not typically stay in a hospital or overnight facility but must be accompanied home by a responsible adult the first night after surgery.
Facelift

Before & After Photos

Keep in mind that each patient is unique and your results may vary.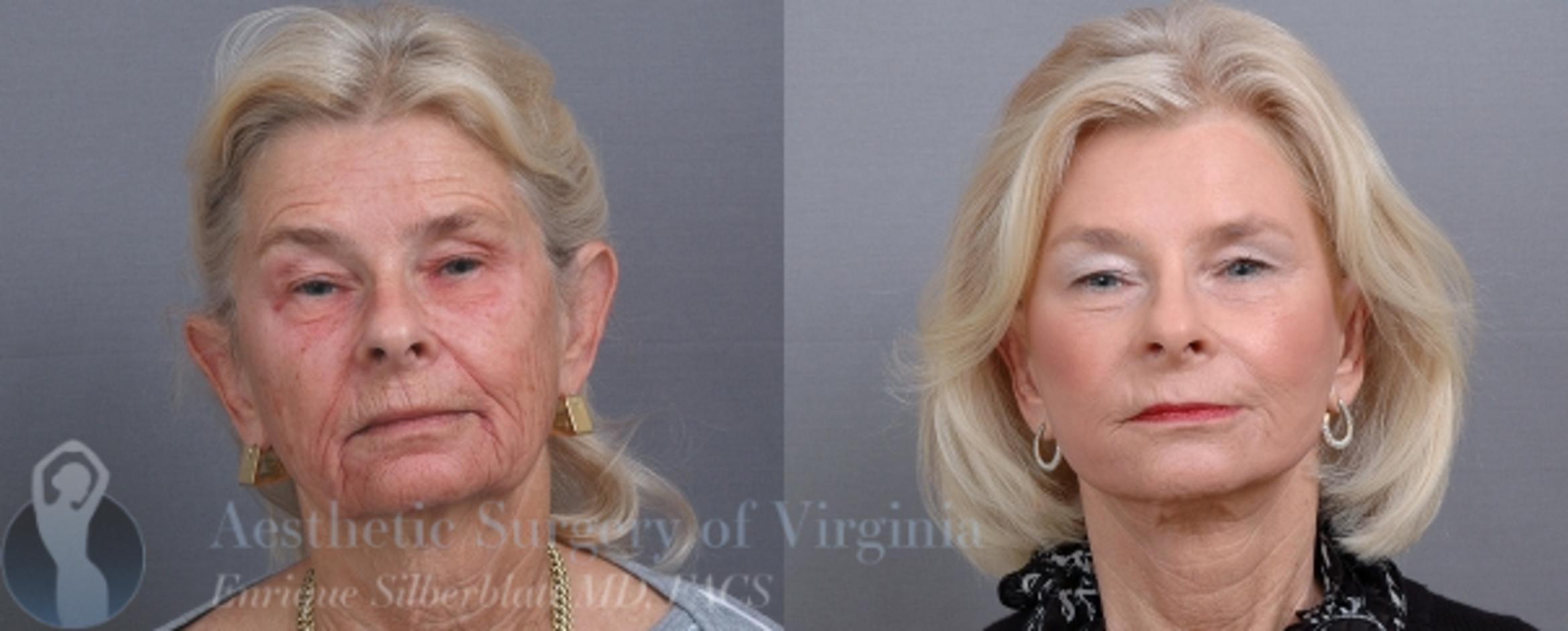 Before & After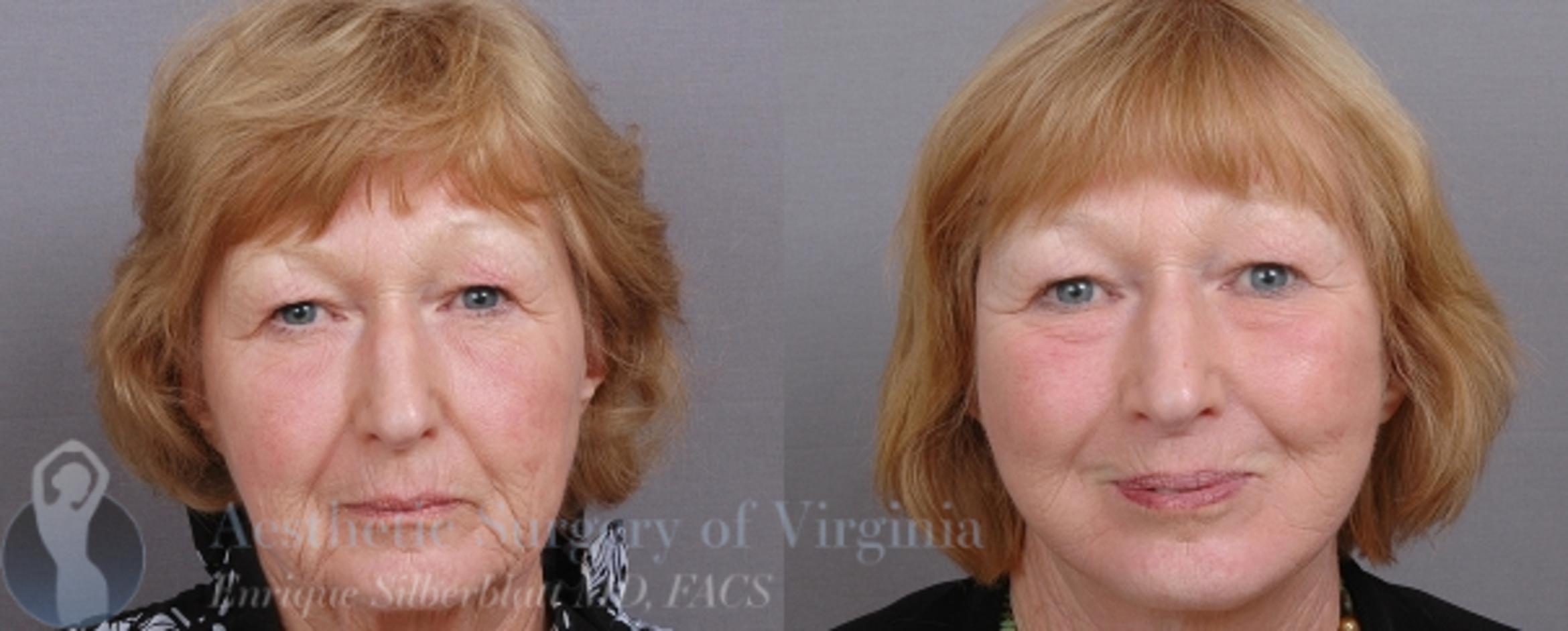 Before & After
Keep in mind that each patient is unique and your results may vary.
What Is the Best Age for a Facelift?
There is no specific age associated with facelift surgery. The best time is usually when what bothers you overshadows any concern about having surgery. Dr. Silberblatt has performed facelifts on patients ranging in age from their early 40s to their late 80s.
Did You Know?
Did you know that plastic surgeons use facelift incisions to reconstruct the faces of trauma victims with facial bone fractures?
Benefits of a Facelift
The term "facelift" can be confusing because it means different things to different people. Dr. Silberblatt defines a facelift as an operation that lifts the sagging skin of the neck, jowls, cheeks, and corners of the mouth. The eyelids and forehead are not considered to be part of a facelift, although eyelid surgery and brow lift procedures are often done at the same time as a facelift.
What Is a Mini Facelift?
If you only desire a refreshed look or just want to lift the jowls, then a mini facelift might be more appropriate. A standard facelift offers the refreshing effects of a mini facelift, and also lifts the cheeks, and removes the extra skin and fat of the neck (neck lift).
Will a Facelift Remove Wrinkles?
While a facelift will tighten the skin, it will not get rid of wrinkles or improve the skin's texture. The following skin rejuvenation treatments do soften the skin's appearance and can be done at the same time as a facelift:
Chemical peels
Dermabrasion
Laser treatments
What is it like to have a facelift?
"I wanted to look as good as I felt. Waking up and looking in the mirror I saw the effects of gravity on my face, which just ruined that good feeling. Now, I wash my face, brush my teeth and go off feeling good about myself."*
Read More
How Long Is Recovery From a Facelift?
After facelift surgery, a large, padded dressing is applied to your face. The dressing is removed the next day, and your hair is shampooed and dried. You also wear a chinstrap that is not removed for an additional 4 days. On the 5th postoperative day, we remove the visible sutures. Although the chinstrap is worn as often as possible for the first 5 weeks, at this point you can remove it for showering and while in public. The remaining, hidden sutures are removed at 2 weeks after surgery, and most swelling will have resolved by then. While recovery rates vary between patients, bruising is usually gone by 3 weeks after surgery. Sensation in the operated areas may take up to 6 months to return.
How Long After a Facelift Will I Look Normal?
Approximately 5 days after surgery, many facelift patients feel comfortable enough to return to work using camouflage makeup to hide any lingering bruises. Full results are typically apparent at about 6 weeks and last for 5 to 10 years, depending on individual factors.
Dr. Enrique Silberblatt
Dr. Silberblatt performs all treatments and procedures himself—from minimally invasive injectables to complex surgeries. He is by your side every step of the way, from easing your nerves at the consultation through celebrating your beautiful new look after recovery.
Meet Dr. Silberblatt
Why Board Certification Matters
Why Board Certification Matters
Contact Aesthetic Surgery of Virginia
Dr. Enrique Silberblatt is committed to providing his patients with the highest quality cosmetic surgery treatments and procedures. To learn more about a facelift, schedule a consultation online or call us at (540) 776-1600.
Back to Top