Aesthetic Surgery of Virginia: Enrique Silberblatt, MD
3505 Brambleton Avenue
Roanoke, VA 24018
Phone: (540) 776-1600
Monday–Friday: 8:30 a.m.–5 p.m.

Mini Facelift
Board-certified plastic surgeon Dr. Enrique Silberblatt offers the mini facelift in Roanoke, Virginia, to lift and tighten the jowl region with the least possible interruption of normal daily activities. Our mini facelift patients, who visit from Smith Mountain Lake, Lexington, Moneta, and other nearby cities, usually receive a local anesthetic; but full sedation administered by an anesthesiologist is available for those who desire it. Most patients can return to work the next day, although experiences vary.
Mini Facelift

Before & After Photos

Keep in mind that each patient is unique and your results may vary.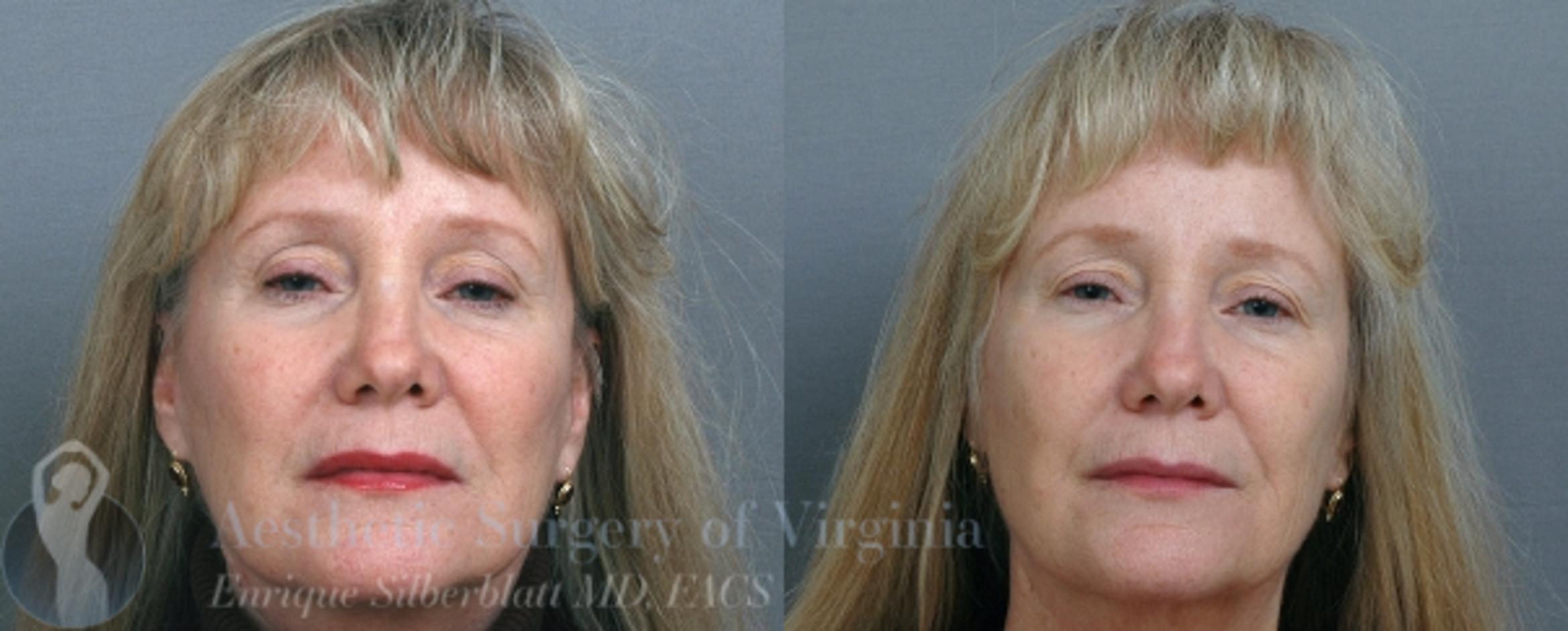 Before & After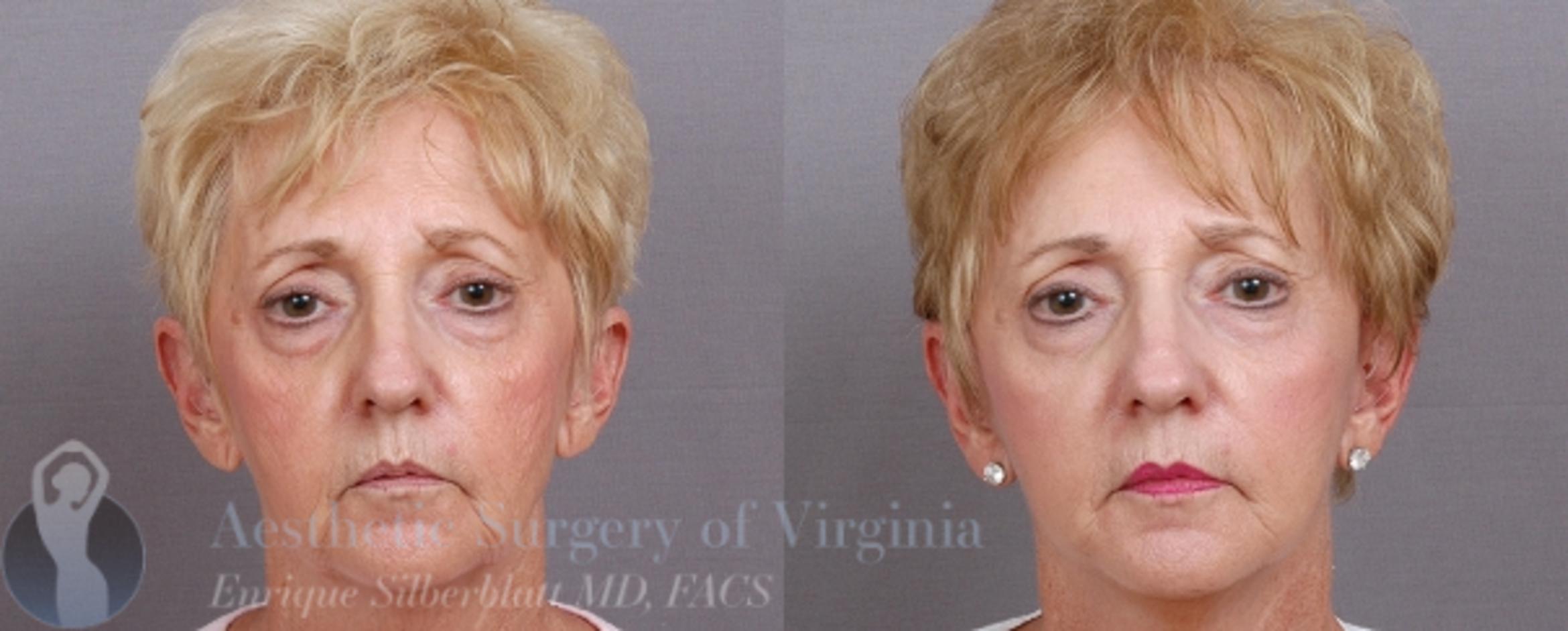 Before & After
Keep in mind that each patient is unique and your results may vary.
Mini Facelift Candidates
The ideal candidate for a mini facelift is someone who has moderate signs of facial aging, but who is not overly concerned with improving the appearance of his or her neck. Many mini facelift patients tend to be younger in age and seek to maintain a youthful look, as opposed to extensively rejuvenating or correcting various facial concerns. Older patients can also be excellent candidates for a mini facelift if they are comfortable with the appearance of their neck.
What Does a Mini Facelift Do?
For qualified individuals, the mini facelift offers several unique benefits, including:
Lifting or tightening of the jowls
Mild improvement of smiles lines and nasolabial folds
Shorter scars than with standard facelift surgery
Less recovery and downtime than a standard facelift
A very high rate of patient satisfaction
Patients increasingly seek facial improvements earlier in life with an eye toward maintaining rather than correcting. Our patients have been thrilled with the results of the mini facelift, in that it provides both the minimal change they want and negligibly interferes with their usual daily activities. Mini facelifts have one of the highest satisfaction rates of any procedures we do.
What is the difference between a full facelift and a mini facelift?
The mini facelift helps patients look refreshed; it does NOT lift the neck (though some passive toning often occurs). The full (standard) facelift provides a more comprehensive rejuvenation. See the table for a more complete comparison of these techniques.
Comparison of Facelift Techniques
Consideration
Mini Facelift
Full Facelift
What are the improvements?
Lifts sagging jowls.

Reduces upper nasolabial folds (subtle).

Lifts sagging jowls, cheeks, and corners of the mouth.

Removes extra skin and fat on the neck.

How long are the scars?

Shorter than full facelift
Longer than mini facelift
What is recovery like?*
Back to work: 1 to 2 days

Swelling & bruising: minor

Back to work: 5 days

Swelling fades: 2 weeks
Bruising fades: 3 weeks

How long do the results last?*
3 to 5 years
5 to 10 years
*Patient experiences vary.

Dr. Enrique Silberblatt
Dr. Silberblatt performs all treatments and procedures himself—from minimally invasive injectables to complex surgeries. He is by your side every step of the way, from easing your nerves at the consultation through celebrating your beautiful new look after recovery.
Meet Dr. Silberblatt
Why Board Certification Matters
Why Board Certification Matters
The Mini Facelift Procedure
There are likely as many kinds of mini facelifts as there are surgeons performing them. Two things all mini facelifts have in common are a shorter scar and a shorter recovery period than that of a standard facelift. To lift the jowls, many mini facelifts use long sutures, often called suspension or purse-string sutures. Some mini facelifts only use the skin pull to bring up the jowls. Dr. Silberblatt considers these methods inadequate because long sutures will "cheese wire" through the tissues, causing the skin to stretch when put on tension.
In contrast, the mini facelift offered at the Aesthetic Surgery of Virginia uses an incision that extends from under the sideburn, continues along the front edge of the ear, and ends just behind the earlobe. The skin in front of the ear is lifted, and a strip of the tough tissue over the parotid gland is removed. The edges of the tough tissue are then carefully sewn together, and this upward pull is what lifts the jowls and holds them up. Extra skin is then measured, marked, and removed. The skin is repaired with no tension on the scar, minimizing the width and thickness of the scar. Sutures are removed 1 week after surgery. Patients with high blood pressure must make sure it is well-controlled prior to the operation, otherwise the risk of bleeding after surgery is very high.
Can a mini facelift be combined with other procedures?
Yes! Dr. Silberblatt often combines mini facelifts with procedures such as eyelid surgery or brow lift surgery to address signs of aging in the upper third of the face.
How long does it take to recover from a mini facelift?
Most mini facelift patients can return to nonstrenuous jobs and regular daily routines within 1 to 2 days, although experiences vary. Minor swelling and bruising often occur initially, but these symptoms usually subside quickly. Most patients experience only moderate postoperative pain, but we can prescribe medication for any discomfort.
How long after a mini facelift can I exercise?
We generally recommend that patients avoid all exercise and vigorous activity for at least a few weeks to ensure proper healing. We encourage walking (not power walking) as a substitute activity during this time.
"When I was thinking of having a mini facelift, I asked my family and friends in the medical community who I should use. The name "Silberblatt" was repeated several times, so of course, I Googled him. Plus, I knew two friends who had used his services and loved the fact that both said, "He made me feel special." Dr. Silberblatt's reputation for being very professional and meticulous, and the fact that he truly cares about his patients were more than enough reasons for me."
Read More Testimonials
Contact Aesthetic Surgery of Virginia
Dr. Enrique Silberblatt is committed to providing his patients with the highest quality cosmetic surgery treatments and procedures. To learn more about mini facelifts, request a consultation online or call us at (540) 776-1600.
Back to Top